Timesheet Excel Templates: 1 week, 2 Weeks and Monthly Versions
SKU:

MW003

UPC:

MPN:

Availability:

Downloadable immediately
Description


You get not just one, but three Timesheet templates included in this offering, use whichever one best suits your needs; give the other ones to friends if you wish or just keep them for possible future use.
The three variations are as follows; the first version is a one-week (7 days) timesheet; the second variation is a two-week (14 days) time sheet template, while the third is a five-week version making it suitable for monthly use. The multiple week versions provide two-week or monthly summaries.

Each timesheet template is an Excel-based electronic timesheet that records the time the employee starts work, breaks for lunch, returns to work after lunch and the time the employee finishes each day for up to seven days of the week. The hours worked each day and the cumulative hours for the week are calculated for a seven-day week. Gross earnings are also calculated and broken down between regular pay and overtime pay.
Key Features: Ti

m

esheet Excel Template
The Timesheet Template in Excel incorporates the following features:
One week, two and five week/monthly versions available, you get all three!!

Option to use week-ending or week-starting date.

Dates and days-of-the-week are automatically calculated and displayed.

Allows for daily check-in and check-out for lunch, etc.

Handles work shifts without check-in check-out break.

Handles shifts that span two days, i.e. night shifts.

Calculates actual hours worked each day.

Calculates a running total of the cumulative hours works from the beginning of the week.

Allows the user to specify the number of standard hours in a week.

Calculates the overtime hours worked in excess of the standard hours for the week.

Calculates gross earnings for standard hours and overtime hours.

Produces user-friendly print format.

Facilitates signature and approval signoff.
The Two-week and monthly versions additional features include:
Employee data is copied from the first week timesheet to all subsequent week sheets.

Relevant dates/days of the week are carried forward and updated from the first week timesheet.

A summary is calculated for the two or month for the following:

Total Standard Hours Worked

Total Overtime Hours Worked

Overall total hours worked

Total Standard gross earnings

Total Overtime gross earnings

Overall Total gross earnings

All are fully customizable Excel templates

Uses only standard Excel features, no macros

Simple to setup –

if you have Excel, you are ready to go!

Outstanding customer service and support -- just check out what

our customers say

.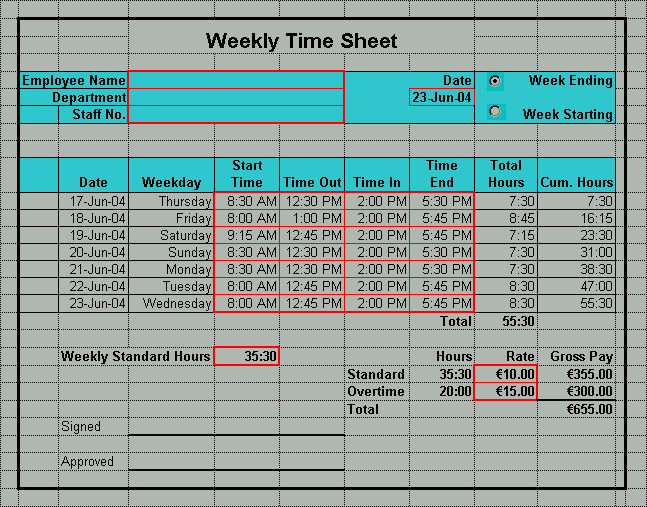 Timesheet Templates Other Versions
Need Something Different
If the features of the Timesheets Excel templates are not exactly what you need, please contact us and we will see if we can meet your needs.
No Quibble Guarantee
Before purchasing, check out the User Guide for full details of the comprehensive list of features and the ease-of-use that allows you to get started right away!
Still not satisfied, all our products come with a NO QUIBBLE MONEY BACK GUARANTEE
Security and Payment
The site is fully protected using the industry leading Geo-Trust SSL system.
Payments via all major credit cards, Apple Pay and Google Pay are processed using Stripe payment processing and we also accept PayPal payments.
Once payment is processed, the items purchased can be downloaded immediately.


View All
Close
Warranty Information
No Quibble Money Back 14-day Guarantee
View All
Close
1 Review
Hi my name is Milan ( Australia ), I did purchase the weekly xl time sheet from business tools store, the reason for the purchase was that I can actually crosscheck my pay slip. It was nice and really ease process to get it and it is working for my purpose fantastically. The communication with the provider was excellent so I'm very happy customer it is 5 stars rating from me thank you
View All
Close